What would you do if you found a newborn on a subway bus station?
Based on a true story, YOU WERE MEANT FOR ME follows thirty-five-year-old Miranda, who has great friends, a great job at Domestic Goddess Magazine, and who is finally moving on after a breakup. Having a baby? Not even on her radar—until the day she discovers an abandoned newborn on the platform of a Brooklyn subway station.
To celebrate the  release of  YOU WERE MEANT FOR ME, Yona McDonough has stopped by for an interview.
You can WIN  a signed copy of Yona's novel by leaving a quick comment.  Contest ends Oct. 14th.
Welcome, Yona!
Q. The questions at the back of You Were Meant for Me talk about a factual basis for the story; can you elaborate?
A. My dear friend (and wonderful writer) Patty Grossman told me about someone who had found a newborn on a New York City subway platform, brought the infant to the police and then continued to follow the case. The infant remained unclaimed and was about to go into the foster care system. The family court judge assigned to the case suggested that the man who found the baby become a foster parent with the goal of adoption. Although adopting a baby was the last thing on his mind, the man realized he did want the baby. Now that baby is about twelve, happily living with his two dads. To me, this is just such a joyful ending to a story that started off so tragically and I wanted to write my version of these events.
Q. Do you ever fantasize about finding a baby, the way your fictional heroine, Miranda Berenzweig did?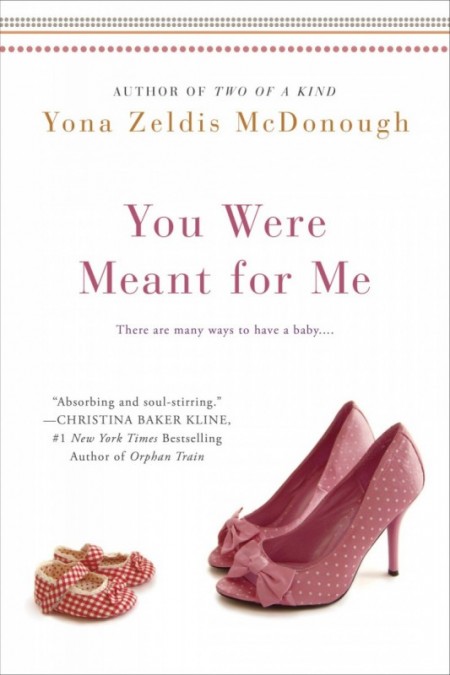 A. Many times! I have two children and wanted a third, but I did not end up having that last child. So I would indulge what I called the found baby fantasy, and asked myself what would I do? I believe I would have done what Miranda did.
Q. Describe your core audience.
A. I think my work appeals to women in their thirties and older; I get very positive reactions from this group. Yet I often include strong male characters and male points of view—You Were Meant for Me has two well-defined male voices—and I would like to be able to include men in that group as well.
Q: The professions of your characters are interesting; can you comment?
A. I choose professions that I either have some familiarity with or that interests me enough to do the necessary research. For Evan, I drew on the experiences shared with me by my husband Paul McDonough, who is a photographer and has used a Leica—the same camera Evan uses—for decades. Since I love my husband's work, Evan's profession is a kind of homage to him. I chose real estate for Jared because it's a field that has always held a certain fascination for me. The buying of a home is so deeply personal, and says so much about who we are and what we long for. It's also an area that allowed Jared's particular qualities—his easy charm, his affability—to shine, so I though it would suit him. In Miranda's case, I felt comfortable with the world of publishing and magazines so I placed here in it; I made her a food editor to give it a slight twist and because it gave me the chance to write, extensively, about cupcakes!
Q. How do you see Geneva's role? She is not given an actual point of view, yet she is an important character.
A. Geneva is more elusive and hidden than the other characters. She is not up front or truthful; she has secrets to keep. I found her a challenging character to write. But I also felt a sympathy and tenderness toward her too. She has been wounded by the family she had, and she is trying, in her own imperfect way, to cope.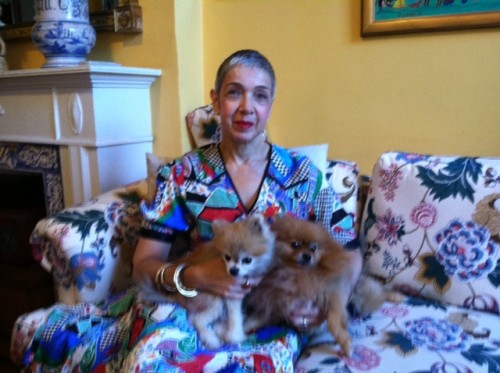 Q. You also have a book for children, Little Author in the Big Woods: A Biography of Laura Ingalls Wilder, that came out on September 17. How does writing for children affect the work you do for adults?
Each kind of writing draws on a different part of my brain, and draws on a different part of the soul. Those differences are stimulating and invigorating. I love writing for kids (which in my view is writing for nine year old girl who is still alive and well in me!) and I try to have a kids' project running parallel to any novel I am writing.
Q. Tell us about your writing space.
A. I work in small upstairs room of our house, facing our tiny, overgrown backyard. The room has a south-facing window, and I painted the walls pale blue, to minimize the distinction between outside and inside; on a sunny day, it's as if I invited the outdoors in. I have a big, beautiful antique desk, shelves filled with lots of books, and almost as many dolls. There is usually a small, copper-colored Pomeranian (I have two) curled up on the floor, keeping me company. Poms are so inspiring!
They're also extremely cute!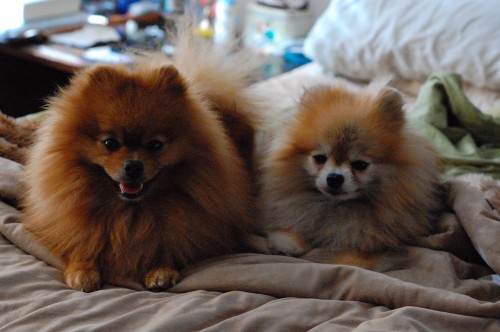 Thanks, Yona!
Biography
Yona Zeldis McDonough is the author of six novels for adults: THE FOUR TEMPERAMENTS, IN DAHLIA'S WAKE, BREAKING THE BANK (which has been optioned for a film), A WEDDING IN GREAT NECK, TWO OF A KIND and YOU WERE MEANT FOR ME, which will be out on October 7, 2014.
She is also an award-winning children's book author with 23 children's books to her credit. THE DOLL SHOP DOWNSTAIRS received a starred review from Jewish Book World saying that it "will become a classic." In another starred review Kirkus called the sequel, THE CATS IN THE DOLL SHOP, "a quiet treasure." THE DOLL WITH THE YELLOW STAR won the 2006 Once Upon a World Award presented by the Simon Wiesenthal Center.
Her most recent book for children, LITTLE AUTHOR IN THE BIG WOODS: A BIOGRAPHY OF LAURA INGALLS WILDER, came out from Christy Ottaviano Books/Henry Holt, on September 16, 2014 and her latest in the popular WHO WAS…? series, WHO WAS SOJOURNER TRUTH?, is forthcoming from Grosset & Dunlap.
For over a dozen years, Yona has been the Fiction Editor at Lilith Magazine. She works independently to help aspiring writers polish their manuscripts. To arrange a book club visit, inquire about editorial services or just to say hi, please contact Yona via her website: www.yonazeldismcdonough.com or on the Facebook fan pages for her novels, which she hopes you'll "like."