I'm excited to share an interview with Alicia Bessette. Alicia's first novel, A Pinch Of Love (also published as Simply From Scratch), became an international bestseller immediately upon publication. Library Journal called it "a strong, richly detailed debut novel, with a truly lovable heroine." Alicia was born and raised in central Massachusetts. Ms. Bassette is also a trained pianist and married to Matthew Quick, author of The Silver Linings Playbook and Boy 21.

Alicia and Matthew also started the website Quest For Kindness, a place where authors write stories and essays on–you guessed it, kindness. Both alicia and Mathew write novels that make the reader feel hopeful and comforted in some way.  I'm a huge fan of both their writing and was thrilled when Alicia agreed to an interview.
R: I discovered A Pinch of Love, after becoming a fan of your husband's novels. You both write such caring, warm stories–not in a saccharine way at all, but in a way that makes me feel good.  A Pinch of Love, in particular, deals with a woman who has lost her husband and yet there's a great deal of compassion in the story—and humor.  While you were writing did you purposely employ humor? Do you try to keep a handle on tone and emotion when you write, or do you let the story unfold as it may?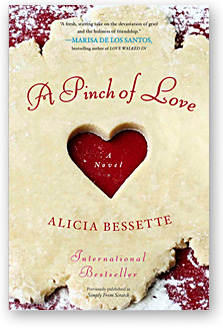 A: Thank you for the nice compliment. I wrote humor into A Pinch Of Love because I wanted to offset the story's inherent sadness. The book is about how a young widow, Zell, rediscovers joy. There's grieving within the pages. There's loss. But I didn't want readers to feel as though they were slogging through anguish. Reading should be a pleasure. So the book's light moments and happy encounters were intentional.
As to letting the story unfold versus controlling the unfolding, I think it's a little of both. A writer knows the general direction her story will take, but she doesn't know the exact route. Maybe the main character will bear left at the end of chapter four, or maybe he'll pull a few donuts and then throw it in reverse. I think for writers, the trick is, don't be so rigid that you are never surprised by the twists and turns your writing takes. (Paradoxically, this might take some discipline!)
R: I've learned that you're not only a writer but also a pianist and composer with two full-length CDs. Who are your favorite composers?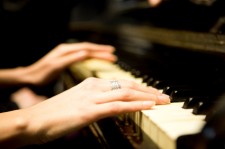 A: I love Satie. I love Schubert. Last fall I attended a piano concert in Ashburnham, Massachusetts, part of the Frederick Historical Piano series, and I heard this fantastic performer, Manabu Takasawa, do "Hermit Thrush at Eve" by turn-of-the-century composer Amy Beach. The song captures the distinct, beautiful call of the hermit thrush, which I sometimes hear when I'm in my backyard. Takasawa explained that Beach wrote the song toward the end of her life. She went into the woods with pencil and paper, listened, copied down the exact notes she heard as the hermit thrush sang, and went home and composed the song. Then Takasawa performed it—dark and haunting¾and I was sitting in the last pew (the concert was in a church) and my chest was heaving and tears were brimming my eyes and a lump pulsed in my throat. I guess you could say I had a strong reaction! Anyway that was my introduction to Amy Beach so I've been listening to her a lot lately.
R: What are the last three books you've read that wowed you?
A: Light Boxes by Shane Jones, The Lucy Variations by Sara Zarr, and The Best of Youth by Michael Dahlie.
 R: I love that your main character, Zell, listens to Gladys Knight.  Do you listen to music when you write? Who do you like to dance to when no one is around?
A: When I was writing A Pinch of Love, I listened exclusively to Gladys Knight and the Pips. A favorite topic of theirs, of course, is the bad breakup. The grief and frustration Gladys expresses in songs like "Letter Full of Tears" and "If I Were Your Woman" (my personal favorites) parallel Zell's emotions, still turbulent more than a year after her husband's death. I saw Zell very clearly when Gladys's voice was in my ears. (There she is, toting around her old record player and her Gladys Knight vinyl ….)
When no one is around, I dance to Justin Timberlake and Will Smith. Matt and I are going to see Motley Crue this weekend and I'm so excited I can hardly stand it. (The piano music that I compose is fairly gentle; fans are usually amused to learn that I am a big fan of heavy metal, and also gangsta rap. But, to quote a character from A Pinch of Love, "The more you like, the happier you are.")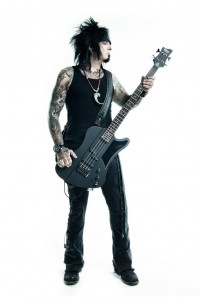 R: A Pinch of Love involves a television cooking show and celebrity cook.  Do you have any favorite cooking shows or favorite celebrity chefs?
A: In the '90s there was a Food Network show called Ready, Set, Cook, where two audience members raced against each other and the clock¾if I recall correctly, they each had to come up with a dish on the fly, on a $10 budget, using only five major ingredients. My college roommate Shelly and I used to watch Ready, Set, Cook every weekend during our junior year.
Around that time, Shelly and I took a nonfiction writing class, and she wrote a really great personal essay about her love-hate relationship with cooking shows. How they allow us to believe that we, too, can create a gorgeous, delicious meal. And yet so often, our real-life attempts understandably fall short of the perfection depicted on TV.
Years later when I was writing A Pinch Of Love, I remembered Shelly's essay and our obsession with Ready, Set, Cook. In my book, Zell and celebrity chef Polly Pinch are two very different women, but I think they both tire of society's unfair expectation that women should play the role of happy, selfless nurturer. Too, I think they'd agree that, especially in the kitchen, a little playful spontaneity can be healing.
R: If I were to visit Greater Worcester, Massachusettes, what are a few places you'd suggest I see?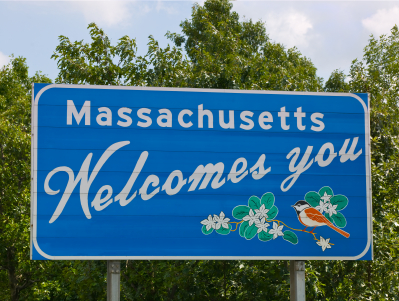 A: Wachusett Mountain. The Central Mass Rail Trail. Ray's Wayside Antiques.  Matt and I bring out-of-town visitors to The Bagel Inn for breakfast or lunch, and to Armsby Abbey for dinner and beers.
R: If calories didn't matter, what foods would you pig out on?
A: Ice cream and croissants.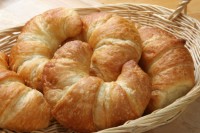 R: Congrats to you and Matthew on all the attention for The Silver Linings Playbook. I saw on Matthew's Facebook fan page that you two went to the Oscars. Care to share any highlights?  Please? 🙂
 A: Thank you! I'm sure I'll remember everything about that shimmering day for years to come, but the moment that stands out in my mind happened a few hours before we hopped into the back of the limo for the ride to the Dolby Theater. Dressed in jeans and flip-flops, Matt and I ventured out of our West Hollywood hotel in search of band-aids. I wanted some protective padding for my feet, which I feared wouldn't survive my stiff new peep-toe pumps on the red carpet. We strolled the hills and window-shopped and held hands and marveled at the blue sky and the warm breeze. All the rest of that weekend was flashbulbs and glitz and cocktails, and I pretty much felt like a country bumpkin stumbling around in the big city. But that twenty-minute walk was quiet calm amidst all the fun and celebration. Just a husband and wife checking out an unknown block on a Sunday afternoon, hoping to discover a neighborhood pharmacy. (We never did find band-aids, but my feet made it through the Oscars unscathed.)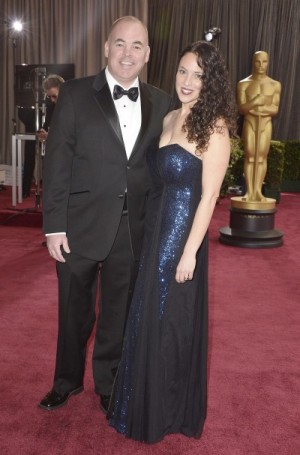 R: When can we expect a new novel, Alicia????  No pressure, but…when????  
A: Well, when Matt and I moved out of our apartment and into our new home, I was reunited with my baby-grand piano, which had been in storage for three and a half years. So I took a hiatus from writing fiction (and from Quest For Kindness, too) in order to get reacquainted with my instrument and compose some new music. The Great Room will be a full-length album of original solo compositions produced by Wachusett Records (like my first two albums, Reservoir in 2002 and Orchard in 2008). Look for it on iTunes, cdbaby, Amazon, and other online music retailers later this year.
The Great Room will be recorded live on my piano, in my great room, which has 13-foot-high ceilings, real pine-paneled walls, wide oak floors, and dark-stained support beams, all original to the 1950 house. (Picture a Hogwarts-ian après-ski lounge of sorts.) The tracks will go uncorrected¾what I play is what you hear. It's going to be an intimate, authentic, and warm-sounding acoustic album. Many artistic fans of my music tell me they listen to my first two albums when they create, so my third one should make a nice addition to their music libraries.
I am writing fiction, too. And that's all I'll say about that for now!
 Thank you, Alicia!