While visiting friends in England they invited me  for "cream tea", which turned out to be  a pot of tea, served with scones and clotted cream–which is basically a bowl of sunshine mixed with blue skies that  you slather on your scone with jam.     British scones are closer to biscuits than the (overly sweet and cake-like) scones they make here in the states. Anyway, I've been jonesin' to make "proper"  scones ever since my visit.  Rainy weather plus a found recipe and — viola!
Directions
½ cup whole milk
2 large eggs, chilled
3 cups unbleached all-purpose flour, plus more as needed
1 tablespoon plus 1 teaspoon baking powder
2 tablespoons superfine sugar
½ teaspoon fine sea salt
A few gratings of fresh nutmeg (eh—skipped this)
10 tablespoons (1 ¼ sticks) unsalted butter, chilled and cut into ½ inch cubes
½ cup dried currants
1 large egg, well beaten for glazing
Position a rack in the center of the oven and preheat to 425 degrees. Line a half-sheet pan with parchment paper.
1. To make the dough by hand: Whisk the milk and two eggs together in a small bowl; set aside. Sift the flour, baking powder, sugar, salt, and nutmeg into a medium bowl.
Add the butter and the flour, scraping the butter off the blender as needed, until the mixture resembles course bread crumbs with some pea-sized pieces of butter.  Mix in the currants. Using a wooden spoon, stir in the milk mixture and mix just until the dough clumps together.
FYI: I used my food processor to mix the butter and flour mixture.
2. Turn the dough out onto a well-floured work surface and srinkle about 2 tablespoons of flour on the top. Knead the dough a few times, just until it doesn't stick to the work surface. Do not overwork the dough. The surface will be floured, but the inside of the dough should remain on the wet side. Gently roll out the dough into a ¾ inch-thick round.
3. Using a 2 ½ inch fluted biscuit cutter, dipping it into the flour between cuts, cut the out the scones (do not twist the cutter) and place 1 ½ inches apart on the prepared pan.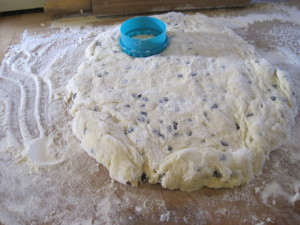 4. Place the scones in the oven and reduce the heat to 400. Bake until golden brown, about 20 minutes.  Serve warm.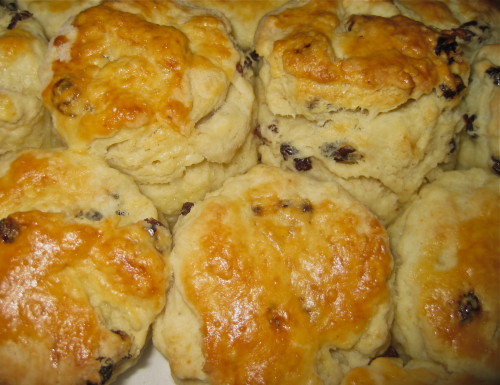 Recipe found in Sarabeth's Bakery by Sarabeth Levine