Please welcome Yona McDonough, who shares her thoughts on what it's like to know her new novel, Two Of A Kind, will be released in less than two weeks.  Even though she's a "seasoned" author of five novels for adults, THE FOUR TEMPERAMENTS, IN DAHLIA'S WAKE, BREAKING THE BANK (which has been optioned for a film–hello!) and A WEDDING IN GREAT NECK, she's had at least one anxiety dream and says that having a novel published is still a big deal. This coming from an author who is  also an award-winning children's book author with 22 children's books to her credit!  I'm excited she had time to stop by and share her thoughts. TWO OF A KIND, will be released  September 3,  2013.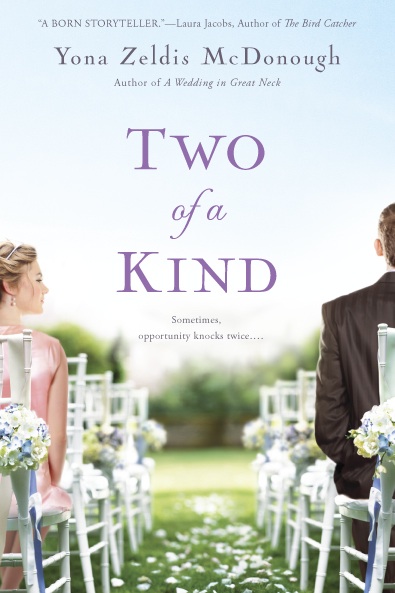 It's the middle of August and I am already in countdown mode—my new novel, TWO OF A KIND, will be published on September 3 by New American Library. Since this is my fifth novel, and not my first, I have a pretty good idea of what to expect.  And I am not the bundle of nerves I was the first time around; I'm a bit more seasoned.  Maybe a bit more cynical too.  But even cynicism can't completely extinguish that perceptible frisson I experience as the big day approaches.  For me (and I would venture to say, for the majority of my cohorts) having a novel published is a big deal.  All that work that went into it—writing and rewriting, revising and editing, proofing and correcting.  I even had an anxiety dream about the latter—in my dream, I found a huge stack of galley pages in my office that I was supposed to have read but had I forgotten about, so my book was going to press without the benefit of my last look.  It was like a variation on the I-totally-forgot-about-that-class-and-now-I have-to-take-the-final dream.  I woke up with my heart slamming and face all sweaty.   Once it's done and ready to face the world, you have to surrender control of it. You've done your best; now its fate is no longer in your hands.
So what am I doing in these last pre-pub days?  A monster load of PR for one thing; planning my outfits for my upcoming readings for another. I've been making lists, checking them twice.  Sending out invitations, notifications, Facebooking my little heart out. It's a busy time, filled with equal parts of stress and hope.  Because we all do hope, don't we? That this one will be The One, and will make our reputations and our fortunes, assure our place in the literary pecking order and make it possible to sell that next manuscript, the one that's scratching around in your soul like a small animal, intent on being let out. And in the end, that's what it's all about.  The story, the right words with which to tell it, the satisfaction and pride when it's out there—finished, completed and done.  Go on, I want to tell this book that waits in the wings for its turn in the spotlight. Get out there and fly.  No, not fly. Soar.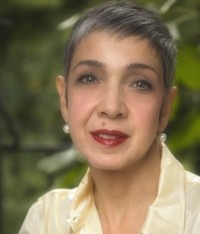 Thanks, Yona!  
You can find out more about Yona and her writing at  www.yonazeldismcdonough.com