I've  always wanted to learn to bake, but I also had some kind of phobia around it. I remember watching my great grandmother and great aunt bake like women born with that gift, you know?  No cookbook in site, the kitchen counter covered with cookies, bread or whatever they were baking that day. But that seemed like something they did. They grew up baking.  I'd grown up making cake by mixing water and oil with the ingredients from a box then opening a can and slathering the cake with "icing."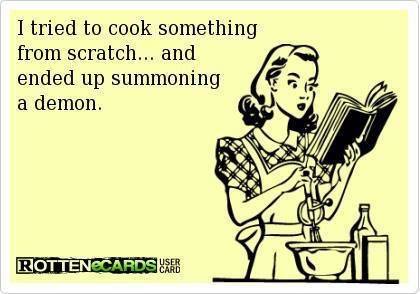 When I was in my twenties I dated a guy whose mother baked and those memories of my great grandmother came back. Plus, the reminder of how nothing equal something made from scratch coming from the oven. And my ex-boyfriend's mother baked things like cream puffs!  Over time, I started collecting  cookbooks. I mean, I collected them for years, but I was too afraid to try the recipes!
I'm not one to make New Year's resolutions, but about three years ago, I promised myself that I would start baking and using all the cookbooks I'd collected.  Since then, I've made everything from cakes to pies to tarts. I bake for myself and friends. Along with reading and walks,  it's one of my favorite activities. It continues to be a wonderful exercise in getting over  any fear about worrying how a recipe will turn out, or if people  will like it. It was also fun to make the narrator of A Pinch Of Ooh La La a baker.  Here are a few recipes that are delicious and easy. Promise!
Dulce de leche brownie with Dulce de leche ice cream and homemade fudge sauce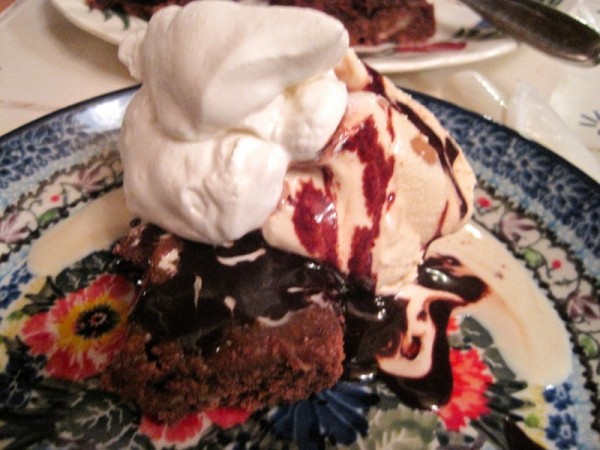 I found this recipe in David Lebowitz's The Sweet Life In Paris.
8 tablespoons (120g) salted or unsalted butter, cut into pieces, plus more for greasing the pan
6 ounces (170g) bittersweet or semisweet chocolate, finely chopped
1/4 (30g) unsweetened Dutch-process cocoa powder
3 large eggs, at room temperature
1 teaspoon vanilla extract
1 cup 9140g) flour
1 cup (100g) toasted pecans or walnuts, coarsely chopped, optional
1 cup (250 ml) dulce de leche (I've found dulce de leche in the market where I shop and I'm guessing it can be found in stores like Whole Foods)
1. Preheat the oven to 350F
2. Grease an 8-inch square pan and line the bottom with parchment paper
3. Melt the butter in a medium saucepan. Add the chocolate and stir constantly over very low heat until melted. Remove from heat and whisk in the cocoa powder until smooth.
4. Add the eggs one at the time, then stir in the sugar, vanilla, and flour. Mix in the nuts, if using.
5. Scrape half of the batter into the prepared pan. drop one-third of the dulce de lech in prune-sized dollops, evenly space, over the brownie batter, then drag a knife through to swirl it slightly.
Spread the remaining brownie batter over the top, then drop spoonfuls of the remaining dulce de leche over the batter. Swirl ever so slightly by dragging the knife once or twice through the batter.
6. Bake for 45 minutes or until the center feels just slightly firm.
Best-ever Fudge sauce
1 cup  water
1/2 cup  sugar
1/2 cup light corn syrup
3/4 cup unsweetened cocoa powder (preferably Dutch-processed)
2 ounces  bittersweet or semisweet chocolate, finely chopped
Prep
1. In a medium saucepan, whisk together the water, sugar, corn syrup (or agave or glucose), and cocoa powder.
2. Bring to a boil over medium heat. Once it's just begun to simmer and boil, remove from heat and stir in the chopped chocolate until melted.
Serving: You should let the Chocolate Sauce stand for a few hours before serving, which will give it time to thicken a bit.
Storage: Store the chocolate sauce in a covered container in the refrigerator for up to 10 days. Rewarm before serving.
Thanks, David Lebowitz
Sweet Cream Cake
I found the recipe for this cake on the wonderful site, food52
Bread!  I made it!  
A special thanks to Jim Lahey and his cookbook MY BREAD
And Pizza!
Throw-the-Jiffy-Away-For-Good Cornbread Recipe
Ingredients
1 1/3 cups coarse stone-ground yellow cornmeal or yellow cornmeal
1 cup unbleached all purpose flour
1/4 cup sugar
2 teaspoons baking powder
3/4 teaspoon coarse kosher salt
1 cup plus 2 tablespoons buttermilk
9 tablespoons (1 stick plus 1 tablespoon) unsalted butter (YEAH!), melted
1 large egg plus 1 large egg yolk, beaten to blend
prep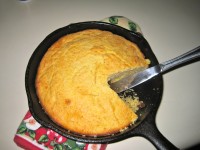 Butter a 9X5X3-inch metal loaf pan or small cast-iron skillet.  Mix cornmeal, flour, sugar, baking powder, and coarse salt in large bowl.  Add buttermilk, melted butter, and beaten eggs.  Stir with wooden spoon until well blended.  Let mixture stand 30 minutes to absorb liquid.  Preheat oven to 375 F.
Pour batter into prepared pan. Bake bread until browned around edges and tester inserted into center comes out clean, about 40 minutes.  Let bread res in pan 5 minutes.
Enjoy!
Oooh-Weeee Lemon Blueberry Muffins

 
paper muffin cup liners
1/2 stick (1/4 cup) unsalted butter
3/4 cup all-purpose flour
1 1/2 teaspoons baking powder
1/2 cup yellow cornmeal
1/2 cup plus 1 tablespoon sugar
1 tablespoon freshly grated lemon zest
1/2 cup whole milk
2 large egg yolks
1/2 cup blueberries
Prep
Preheat oven to 375°F. and line six 1/3-cup muffin cups with paper liners.
Melt butter and cool. Into a large bowl sift together flour and baking powder and whisk in cornmeal, 1/2 cup sugar, lemon zest, and a generous pinch salt. In a bowl whisk together melted butter, milk, and yolks and add to flour mixture with half of blueberries, gently stirring until just combined.
Divide batter evenly among cups (batter will fill cups) and press remaining blueberries into tops of muffins. Sprinkle tops of muffins evenly with remaining tablespoon sugar. Bake muffins in middle of oven about 15 minutes, or until tops are golden and a tester comes out clean. Remove muffins from cups and cool on a rack. Muffins keep in an airtight container at room temperature 2 days.
Ingredients
4 cups plus 1 tablespoon all-purpose flour, divided
2 tablespoons baking powder
2 teaspoons salt
3/4 pound cold unsalted butter, diced
4 extra-large eggs, beaten lightly
1 cup cold heavy cream
1/2 pound extra-sharp yellow Cheddar, small-diced
1 cup minced fresh dill
1 egg beaten with 1 tablespoon water or milk, for egg wash
Cheddar – Dill Scones! Say what?
An easy way to impress your friends and family… 
Ingredients
4 cups plus 1 tablespoon all-purpose flour, divided
2 tablespoons baking powder
2 teaspoons salt
3/4 pound cold unsalted butter, diced
4 extra-large eggs, beaten lightly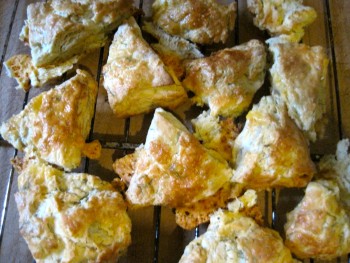 1 cup cold heavy cream
1/2 pound extra-sharp yellow Cheddar, small-diced
1 cup minced fresh dill
1 egg beaten with 1 tablespoon water or milk, for egg wash
Directions
Preheat the oven to 400 degrees F.
Combine 4 cups of flour, the baking powder, and salt in the bowl of an electric mixer fitted with a paddle attachment. Add the butter and mix on low speed until the butter is in pea-sized pieces. Mix the eggs and heavy cream and quickly add them to the flour-and-butter mixture. Combine until just blended. Toss together the Cheddar, dill, and 1 tablespoon of flour and add them to the dough. Mix until they are almost incorporated.
Dump the dough onto a well-floured surface and knead it for 1 minute, until the Cheddar and dill are well distributed. Roll the dough 3/4-inch thick. Cut into 4-inch squares and then in half diagonally to make triangles. Brush the tops with egg wash. Bake on a baking sheet lined with parchment paper for 20 to 25 minutes, until the outside is crusty and the inside is fully baked.
Best-ever Buttermilk Pancakes (and I'm a pancake fanatic)
How much do I love pancakes? I named my dog Pancake I love them so much.  This is the best buttermilk pancake recipe I've found.  Light, not overly sweet (notice, no sugar) and excellent with molasses, which is the way I like to eat my pancakes. Enjoy!
1 cup all-purpose flour
1 teaspoon baking soda
1/2 teaspoon salt
1 large egg, lightly beaten
1 cup well-shaken buttermilk
Vegetable oil for brushing griddle
Prep
Whisk together flour, baking soda, salt, egg, and buttermilk until smooth.
Heat a griddle or a large heavy skillet over moderate heat until hot enough to make drops of water scatter over its surface, then brush with oil. Working in batches and using a 1/4-cup measure filled halfway, pour batter onto griddle and cook, turning over once, until golden, about 2 minutes per batch. Transfer to a heatproof plate and keep warm, covered, in oven.
Waiting For Wilma Pie – caramel, pecans, and chocolate heaven
Pastry dough for a single pie
1 cup dark corn syrup
1/2 cup sugar
2 large eggs
1 tablespoon all-purpose flour
1 tablespoon unsalted butter, melted
1 teaspoon pure vanilla extract
1/4 teaspoon salt
1 cup bittersweet chocolate chips (6 ounces), melted
1 1/4 cups pecans (5 ounces), finely chopped, plus whole pecans for garnish
1/4 cup dulce de leche
Garnish: whipped cream
preparation
Preheat oven to 350°F with rack in middle.
Roll out dough on a lightly floured surface with a lightly floured rolling pin into a 12-inch round, then fit into a 9-inch pie plate. Trim and crimp edge.
Whisk together corn syrup, sugar, eggs, flour, butter, vanilla, and salt until combined. Stir in melted chocolate and pecans and pour into pie shell.
If dulce de leche is very thick, thin with 2 to 3 teaspoon water. Pour dulce de leche over top of pie and swirl with a fork (swirl will not be visible in baked pie). Arrange whole pecans on top.
Bake until top is puffed but slightly wobbly in center, about 50 minutes. Cool to room temperature, at least 2 hours.◊