I was so excited when Trisha R. Thomas agreed to an interview.  Trisha is the author of the classic novel Nappily Every After, and its popular series. In her interview, Trisha gives an update on the status to the film version based on the series; gives advice to up-and-coming writers; and tells us what she would eat if calories didn't matter—trust me, her answer will surprise you!
Trisha's latest, Nappily Entangled, the eighth novel in the series, comes out May 27th, but you can win an advanced copy by leaving a comment after reading the interview.  Say whatever you wish–even a word or two–and you've entered!  Contest ends April 14th.
Trisha is also the author of Roadrunner, Would I Lie to You?  She's also written Dating While Vegan (A Foodie Romance) under the pen name Toni Meyer.  Nappily Ever After was a finalist for the NAACP Image Award for Outstanding Literary Work.
RS: Trisha, congratulations on the success of the long running "Nappily" series. Did you ever, in your wildest dream, think that you and Venus would be together after all these years?  Did you know from the first book Nappily Ever After that you would turn it into a series?
TRT: Thank you!! I have so much fun writing the Nappily stories. When I wrote the first book, I had no idea I'd be writing a series. I received an outpour of emails telling me Venus got a raw deal, and I always listen to my readers, so I set out to make things right. Seven books later, she's still trying to get it right.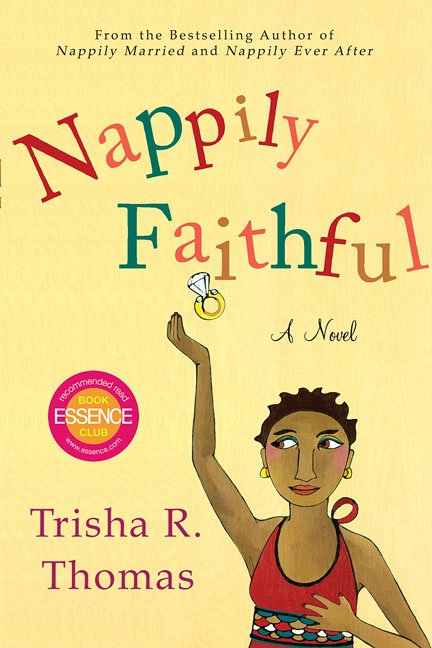 RS: I love Venus's brash and humorous personality.  You must know this woman through and through.  What do you like about Venus?  What do you learn from her?  What do you hope readers will learn from her? I'm also curious about her relationship with Jake. What do you hope readers will learn from watching the twists and turns of their relationship?
TT: She is my hero. She says everything I'm thinking but would never say out loud and I think that's her appeal. She's doing or saying the good stuff so we can live vicariously through her instead of putting ourselves on the line. But she's also vulnerable and afraid of being hurt. Her relationship with Jake is the perfect example. Any woman in their right mind would've run in the other direction; he's nothing but heartache waiting to happen, but she dived in and let the chips fall. When I created Jake's character I was thinking, high risk, high gain. They are both all or nothing kind of people so it works.
RS: What I love about the Nappily series is that because there are seven books and counting, we truly get to see the conflicts and struggles that come with marriage, children, in-laws, temptations, work–it's all there!  Where do you get your ideas?
And how do you choose the issues and topics you want to cover?
TT: My mother just finished reading the eighth book in the series and she asked me the same thing. She of all people knows me the best and she swears I've lived and walked in every scene. I haven't, but I have in my mind. I will admit to mixing a tiny bit of my life, but hardly enough to fill up a storyboard. I'm married to a wonderful man. We raised two great kids. Absolutely the best life I could've asked for. Sometimes I feel guilty for putting Venus through so much when I'm over here living in constant gratitude, thankful for my family and career. It's all been fun.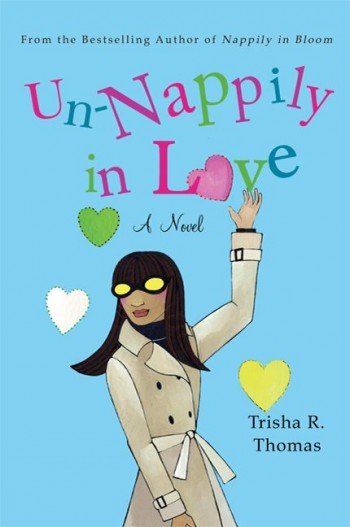 RR: I believe I saw on one of your Facebook postings that you write under a pseudonym.  Would you be willing to tell us more about this? What do you write? And why did you choose to use a pseudonym?
TT: I started writing under Toni Meyer about three years ago. I wanted to venture out of the Nappily stories, but no one wanted to hear from me unless Venus was involved, so I wrote a few stories under a different name so no one would have those expectations and feel the need to start a review with, "…this isn't what I'm used to. Where's Venus?" It's a process of starting over with a fresh voice. It makes me a better writer because I can't assume I have a built in audience like I normally would when I write a Nappily novel.
RS: Could you tell us more about your writing process? Do you write with an outline?
TT: My outline is in my head. I do a lot of notes on my characters, but that's about it. I know what I want to say and figure out how to say it as politely as possible without using a big stick. No one wants to be whacked over the head with too much information.
RS: Of all the novels you've written, do you remember one being easier to write than all the others?  Was there one particular novel that was more difficult to write?
TT: When I start writing in Venus's voice I can go all day. It's easy. But I never stay in her voice when I'm writing. There's always at least three different characters in the Nappily stories, that's when I slow down because I don't know them as well as I do Venus. The latest installment coming out, Nappily Entangled was hard to write and let go of, as in finish, because Venus is responsible for something that happens and I didn't know how to make her take responsibility for it without crying every time I started writing. Hard to write when you're crying. But I powered through. I can't wait to hear the feedback from this one.
RR: Oooh, sounds good!  So Trisha, you're about to have the ultimate dinner party. What artists and/or writers, living or dead, would you invite?
TT: I'd definitely have you there. You're smile is infectious. I'd have all my writer friends. I love Kimberla Lawson Roby, Alexander McCall, Terry McMillan, Walter Mosley, I could go on. That I've even been in the same air space as these writers makes me giddy. This is my generation of writers, it doesn't get any better than this.
RS: Awwwww…How sweet!  Thank you.  I'll be there!
I know everyone is dying to know what is taking Ms. Halle Berry, who owns the right to Nappily Ever After, so long to make the dang movie.  Any news?
TT: Yes, it's been a minute since Halle Berry first bought the rights. One heck of a rollercoaster ride. She's been relentless but Hollywood is not an easy animal to tame. Universal has found a new director and the train is moving once again. I was holding my breath for a long time. When I let it all go and started breathing, everything seemed to just fall in place. Amazing how that happens. I'm excited. Breathing a little faster is all.
RS: A young writer wants your advice.  What three things do you tell her?
My niece is a young writer. I always tell her things that I discover but find it hard to do myself. Like I tell her to never go backwards, always keep moving forward. Forget about what you wrote yesterday, a year ago, or that great or horrible paper in college. Let it go and move forward. It's the best advice but very hard to follow.
RS: Trisha, if calories didn't matter, what foods would you pig out on?
TT: If someone said the world was coming to an end, I'd run out and buy a big bag of salty fried Pigskins with a cold juicy Coca-cola. I haven't had a soda in a thousand years. That would be so cool.
Thanks, Trisha!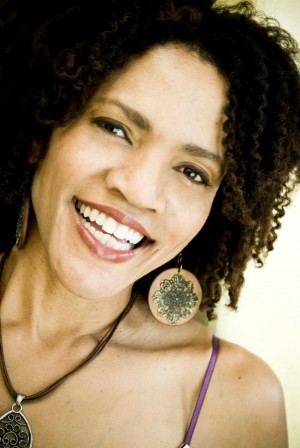 Don't forget to leave a comment!  You have until April 14th. Leave a comment and enter to win a copy of Nappily Entangled.