Yona Zeldis McDonough's Two of a Kind was one of those novels I could not put down, and the writer in me has no idea how she handled all those plot twists. In her interview, Yona discusses the joys of writing children's books (she's written twenty-two–22!), gives advice to writers, and describes her perfect Sunday.  Yona is also giving  away a copy of Two of a Kind.  To enter, read the interview and leave a quick comment.  That's it!
From  Publisher's Weekly: [In Two of a Kind] McDonough  crafts a complex romantic tale of two families, skillfully developing multidimensional characters. Widow Christina Connelly desperately needs interior design work to pay for the mortgage on her Brooklyn home and her 14-year-old daughter's expensive ballet classes. Arrogant widower Dr. Andy Stern, Manhattan's top ob-gyn, struggles with his 16-year-old son's moodiness, which is caused by two years of grief and mystical thinking that his mom will come back. Andy hires Christina to redecorate his apartment; she dislikes him at first, but as they get to know each other, Christina comes to admire Andy, and he finds her captivating. McDonough draws strong pictures of N.Y.C., from the glitz to the drug scene, and includes interesting supporting characters, including Andy's Jewish mother and the gay couple renting the top floor of Christina's house. Multiple points of view show the complications of dating for parents, the compromise of interfaith romance, and the unforeseen consequences when lives get out of balance. Readers will delight in this layered tale of friendship and love.
Leave a comment and you just might win a free copy of Two of a Kind!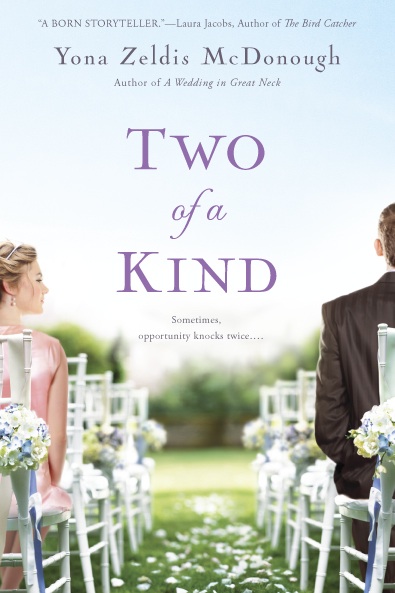 R: I'm struck by the notion that characters in books need chemistry as much as actors on a stage or in a movie.  Your two lead characters, Christina Connelly and Andy Stern, have great chemistry and their scenes together are lively and sexy.  Did Andy and Christina come to you fully formed or did you have to tinker with them to make sure they felt like two people who would eventually form a relationship?
Y: For reasons I cannot fathom, Andy came very easily to me. I felt like I instinctively knew and understood him. Christina was harder for me to crack and it took a long time before she opened up and allowed me to understand her character. I had never written a love story before and I did want to go slowly and unpack the process of their meeting, initial dislike, growing attraction and surrendering to love.  And you are right: chemistry does need to exist, whether it's on the screen or on the page.
R: You write your novel from four different points of view—five, actually, when I think of the Andy's mother.  Writing from so many points of view is something I couldn't imagine at this time, and really admire.  Did you have to outline each storyline?  Was one character easier to write than the next?
Y: I don't use an outline; not my way of working.  And the multiple povs come very naturally. I am always interested in how events are refracted through the different lenses of the different characters.  What one character sees as pivotal might be inconsequential to another.  Everyone has a reason or motivation for their actions and the multiple pov allows the writer to go deep into the character and explore that from the inside.
R: You've written fiction, nonfiction and children's books.  How do you do it?!  Do you take on one project at a time, or do you work on various projects at once? How do you know when a project has potential or when it just needs to be scrapped?
Y: I usually have at least two or three projects going at once.  It can be crazy but it also helps with momentum and confidence: if one thing is not working well, I turn to the other.  The confidence I get from that second project spills over and helps with the one that is stuck.   Sometimes projects do need to be scrapped and that's always hard.  But I rarely say "never." I just put it aside and know that it might come back to life one day, albeit in another form.  This has happened to me enough times so that I have faith in the process.
R: How does writing for children satisfy you as a writer that might be different from when you write for adults?
Y: When I write a kids' book, I am really writing for the nine year old girl who is still alive and well inside of me.  That girl is real and present and writing for children allows me to channel her in a very gratifying way.  It's the only time I get to do that so I consider it precious.   
R: The teens in Two Of A Kind deal with drug use (some would say mild drug use) and an eating disorder.  Did you know you'd be taking on these issues before you started writing the novel or did they develop with the story?
Y: They kind of grew with the story. I knew I had these teens in the book; I asked myself who were they, what was motivating them, what were their stories?  Jordan's eating disorder grew easily and naturally out of her involvement with ballet; ballet and eating disorders often go hand in hand.  And Oliver's dabbling is an outgrowth of his grief in the wake of his mother's death.  That seemed like another natural response.
R: You've written about everyone from Harriet Tubman to Louisa May Alcott in your children's novels and have also put together a reader on essays about Marilyn Monroe.  I would imagine that you're a curious person, Yona.  Can you tell us a little about what role curiosity plays in your process and career as a writer?
Y: You know that old adage: write what you know? I would amend that to, write what you are curious about.  Curiosity is the spur, and the goad that gets you going and brings outside the confines of your own consciousness and the limitations of your own experience.  It's been a great tool for me.
R: One of your novels, The Four Temperaments, involves two men falling in love with the same ballerina, in Two of the Kind, Jordan, Christina's daughter studies ballet, and you've also interviewed legendary dancer Jacques d'Amboise for The Paris Review.  What draws you to the ballet?  How would you convince someone who's never been to the ballet that they should give it a try?  By the way, have you seen the documentary First Position?  Loved it!   🙂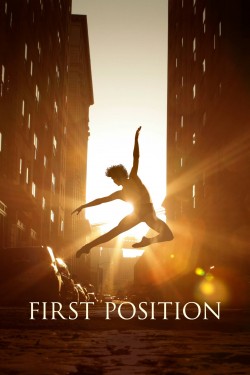 Y: I studied ballet during a very formative time in my life—from the age of seven through seventeen—and even though I never had a professional career of any sort, the experience marked and transformed me. It was akin to religious training and I feel very lucky to have undergone it.  I am drawn to that subject matter and have returned to it more than once in both fiction and non-fiction.  And I'm not done with it either—I've got another ballet novel buzzing around in my brain.   I would not encourage anyone who was not interested to attend the ballet however; some forms just don't speak to us and that's totally fine.  I have not seen that documentary but would love to!
R: If you were throwing the dinner party of your dreams and could invite any artist and/or writer, living or dead, who would you invite?
Y: How about the three Williams: Shakespeare, Blake and Yeats?
R: What are the last three books you've read that wowed you?
 Y: TINDERBOX by Lisa Gornick and THE BEES, Carol Ann Duffy (poetry). I am just starting Joan Silber's FOOLS and loving that. 
R: Tell us, Yona: If calories didn't matter, what food/s would you pig out on?
Y: Sweets are my downfall: I'd stuff myself with French pastries, Swiss chocolates, Italian gelato…
R: A young writer wants your advice.  What three things do you tell her?
Y: Tell you what–I'll throw in an extra one:
•Stick to a schedule—two pages a day, five days a week, worked for me—that is realistic but consistent.
• Don't edit while you write; keep the two activities separate.
• Find a trusted reader—ideally not a family member or friend, but another writer. 
• When your work is rejected, don't brood but send it out again—right away!
R: Do you have any favorite TV shows or movies?  Care to share?
Y: I don't watch a lot of TV but I confess to having become hooked on Law and Order SVU, which seems to be on 24/7 on some stations.  My kids are big fans of this show and now I am too.  I really like the cast of detectives and the interactions between them.  In fact, if TWO OF A KIND were ever to find its way to film, I'd want Chris Meloni, who plays Eliot Stabler on the show, to play Andy.  
R: Describe your perfect Sunday.
Y: It is very weather dependent.  In good weather, I love hitting the stoop sales (urban version of the yard/garage sale), either on my bike or on foot.  An hour at gym is good too, and coffee & a muffin with a friend is always a treat.  And night, dinner with my family—at a restaurant!
R: Care to tell us what you're working on now?
Y: I just sold a new manuscript to my publisher, New American Library.  It's called YOU WERE MEANT FOR ME and is about a 35 year old single woman who finds a newborn infant on a subway platform and decides to adopt her.  Then the baby's biological father shows up…The novel will be out in October 2014 and I am beyond excited!
                                                            Thanks, Yona! 

Don't forget to leave a comment!